A lot of things seem out of sorts right now. The pandemic gone but not quite forgotten, signs about social distancing still feature on buses, in medical waiting rooms, at airports. Airlines struggling to cope. Bank failures showing the risks of risk-free assets. People and institutions have lots of physical gold bars again. The gold price is near all time highs. Is money itself, safe? People are yelling about fractional reserve banking. Oh, and AI joined the collective consciousness, with it, the pitfalls and promise.
The out of sorts feeling has more to do with how we want to see the world than how it actually is. Or, the 'map is not the territory', as Polish-American philosopher/engineer Alfred Korzybski famously said.
Our understanding of reality is first limited by how much we can perceive, and then filtered through our beliefs into a picture of the world that mostly makes sense. That's the Mercator map of the world, a highly practical tool because the exact angles of roads and borders are preserved, but you may think Greenland is the same size as Africa (it is in fact 1/14th of the size).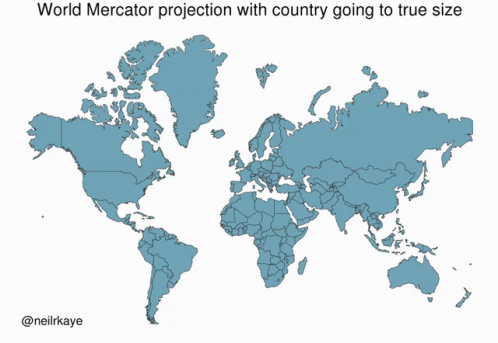 The real world will lie always, maddingly, frustratingly, just out of reach.
"The real trouble with this world of ours is not that it is an unreasonable world, nor even that it is a reasonable one. The commonest kind of trouble is that it is nearly reasonable, but not quite. Life is not an illogicality; yet it is a trap for logicians. It looks just a little more mathematical and regular than it is; its exactitude is obvious, but it's inexactitude is hidden; its wildness lies in wait." ― Peter L. Bernstein: Against the Gods, The Remarkable Story of Risk.
The wildness lies in wait. In time. To be aware of the map's limitations is to better understand the territory.